With the rapid development of science and technology, various laboratories are increasingly demanded, and biobanks have been significant in medicine and technology. In many countries, biobanks are crucial to promoting core competitive abilities in biology and medicine. However, the lack of security is apparent in biobanks.
The storage area of liquid nitrogen containers is high-danger. Liquid nitrogen is nitrogen in a liquid state at an extremely low temperature. Its boiling point is−195.65 ° C and the temperature above the liquid level is −100 ° C or lower. It can cause rapid freezing on contact with living tissue. Because of its extremely low temperature, careless handling of liquid nitrogen and any objects cooled by it may result in cold burns. If a liquid nitrogen container is rolled over by careless handling, the cryo liquid will pour down, and operators must leave the liquid away until there is no liquid nitrogen.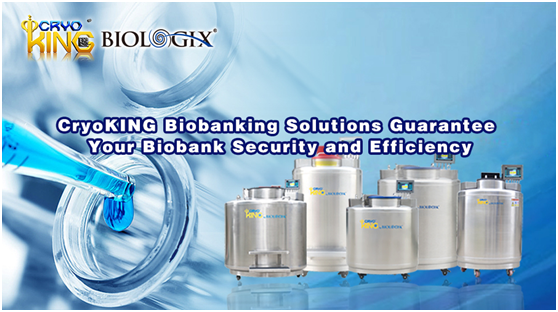 At the temperature of 0 ° C and one bar pressure, 1L liquid nitrogen can be converted to 647L vapor. Therefore, the vapor will expand very fast, and the pressure in the airtight tank increase in very short time. AS a popular tool of liquid nitrogen, cryogenic vials are very important. If vials are below standard, they will explode. Therefore, only high quality cryogenic vials can be used in liquid nitrogen, such as CryoKING.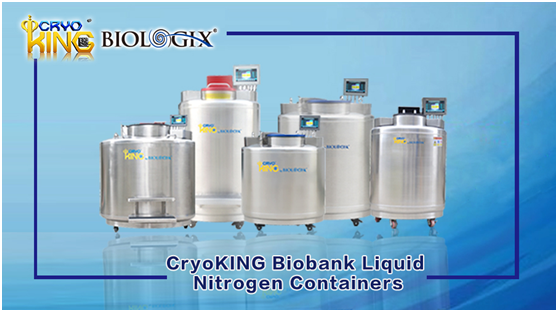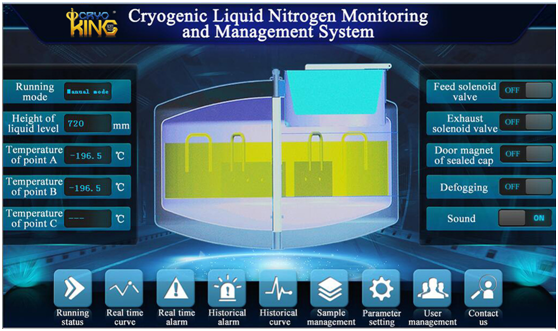 CryoKING supply automatic and durable liquid nitrogen containers. Made of excellent stainless steel and equipped with a roller base. Samples can be stored in either vapor or liquid phase. Stable temperature, low evaporation rate, superior vacuum performance and insulation provide maximum holding times. Top box temperature:-190°C. CryoKING biobank liquid nitrogen containers are the optimal choice for biospecimen preservation: quick freeze, reliable protection, automatic liquid nitrogen filling and kinds of capacities.
CryoKING biobank liquid nitrogen container features:

1. Available for vapor and liquid phase
2. Available in different capacities
3. Stable temperature control
4. Advanced temperature monitoring system, liquid level monitoring system and alarming system
5. Automatic liquid nitrogen filling system
6. The microprocessor system keeps data and information forever
7. Demist button
8. Special design for convenient operation
9. Lockable lid to ensure the safety of samples
10. CE certified