CryoKING Cooperates with Nanning Municipal CDC to Promote The Management of Disease Samples
As a major department of controlling disease, maintaining social stability, and improving public health, centers for disease control and prevention play significant roles in handling social emergent public health hazards. Nanning is a city on the southeast coast of China, and Nanning Municipal CDC (Center for Disease Control and Prevention) controls and prevents diseases for this city and around. Its main tasks include the epidemic control and prevention, such as bird flu, and the inspection of major diseases. Therefore, enormous samples are needed for disease prevention, disease quarantine, infectious assessment, and treatments.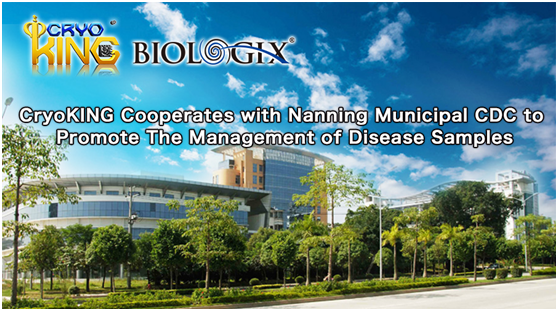 Biologix has rich experience in life science and medical supplies over many years of development. CryoKING, a brand of Biologix, offers complete and integrated biobankking services, and one of its core systems is the information-based storage system which is advanced, safe and efficient. CryoKING storage system has become a popular tool in handling emergent epidemics.
CryoKING Combo, one of the information-based tools of Nanning Municipal CDC, includes 2D cryogenic vials and a cryogenic box which can be scanned. CryoKING 2D storage system combines laser etched DATAMATRIX 2D barcodes, 1D barcodes, and digital codes on sides to avoid paper labels missing and contamination in conditions of high humidity and low temperature. Pre-set 2D barcodes can reduce the time of sample preparation, and risks in storage. CryoKING 2D Combo can be totally read immediately by the laptop scanner and the storage information can be input at one time. No tedious manual labeling and the input efficiency is promoted significantly. CryoKING offers safe, advanced and efficient storage service for the staff of Nanning Municipal CDC.
CryoKING 5ml cryogenic vials for liquid nitrogen storage are in accordance with general international standards, and are designed with the innovative concept of "Multi Coding". Preset laser etched Datamatrix 2D barcode on the bottom, 1D barcode and human readable numbers on the side are convenient for reading, and they are compatible with various scanning instruments. The innovative information-based design can improve the informationization level of biobanks, and can advance the efficiency of sample management.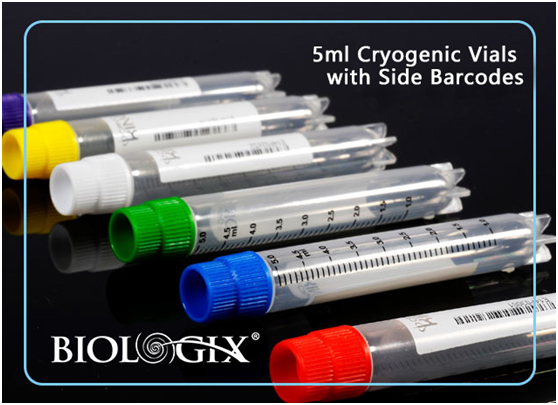 CryoKING, a biobanking brand of Biologix, offers complete biobanking solutions based on integrated biobanking design, product supply, and comprehensive training. CryoKING products feature standardization, informationization and modularization, and has been at the top of the industry. CryoKING biobanking storage system stores samples for Nanning Municipal CDC, and it will promote the comprehensive utilization of samples, and strengthen the capacity of handling emergencies of Nanning Municipal CDC.